Bridgemere meet santa and reindeer
TLS Cipher Negotiation Error Page
FATHER Christmas arrived in style at Bridgemere Garden World near Children can now visit Father Christmas in his grotto in the Winter. Meeting Father Christmas at Bridgemere Garden Centre, Nantwich. Bring the kids along to our Santa's grotto this Christmas for a magical festive experience. Available at centres across Meet. Santa and his little helpers.
The sausages and bacon were really good quality and the eggs were perfect with a nice runny yolk to dip the toast in.
We all pulled our crackers and put on our party hats, whilst telling some Christmas jokes as we ate our meal. Once we had finished a lovely lady called Emma came round and brought the children some snowman shaped biscuits, along with edible confetti and an icing tube.
This meant that the children attending the breakfast could all create their own biscuit, exactly how they wanted to and with their own unique design. Whilst they were decorating, Emma spoke to each of my children individually asking their name, what their interests were and what they would be asking Santa for as a Christmas gift this year.
Leave a Reply
Santa's Grotto at Bridgemere Garden Centre - Review
COME AND EXPERIENCE
I don't often highlight a particular member of staff but she was absolutely wonderful with the children. My youngest son Riley can be very shy at times, but he immediately chatted away with her and even offered to sing her a song. The way that she engaged with the children was really lovely to see and it definitely added to our experience. Riley practiced a few times laying out the snowflakes in different formations before applying the green icing gel.
Eventually he decided to use the confetti for the hat, scarf and buttons and he was delighted with the end result. As he had just eaten a large breakfast he didn't want to eat his biscuit straight away, so Emma kindly went and got some takeaway boxes for us and the children placed their biscuits in them to take away and enjoy later. Of course Breakfast with Santa would not be complete without a visit from the main man himself and the Bridgemere Father Christmas was superb.
At no point were children rushed to finish their meeting with Santa and Riley was with him for a good five minutes talking all about his Christmas list.
I thought that the way it was organised worked really well and seeing such a huge smile on Riley's face throughout the conversation was priceless. Riley told Santa all about his school and that he and his friends have been practising for the Christmas concert.
It's A Family Adventure!: Breakfast with Santa at Bridgemere Garden Centre, Nantwich - A Review
He also told him about his favourite things to do outside of school and the shows that he loves to watch. There was no awkward silence during the chat and Santa seemed really enthusiastic and keen to hear more and I genuinely think that Riley could have carried on talking for hours! Once Riley's time with Santa was over, he was told that he could go and select a gift from the huge sleigh that we had noticed earlier.
I was quite shocked when I heard this, as the presents were really good quality items and there was plenty of choice to suit children of all ages. Riley selected a large jigsaw puzzle which also doubled up as a finding game, so once you have built it, you need to spot certain items and see if you can find them all.
It was Ben's turn next to visit Santa and again Ben told Santa about the things that he had asked for this Christmas. When Ben revealed that had asked for Fifa 19, Santa asked him which football team he supported and quite proudly he replied with Manchester City. This resulted in Santa sharing a little secret with Ben as he whispered his favourite football team in his ear too! Lastly my 12 year old daughter visited Santa and although she is no longer a believer, this did not stop her from enjoying the experience.
I felt that Santa was great with the kids and was able to easily adapt his conversation to suit the age of the child.
Where you can see Santa in Cheshire this Christmas 2018
All three of my children really enjoyed the Breakfast with Santa experience and we were able to create some lovely memories that will definitely stay with us in the future. After leaving our Breakfast with Santa, we decided to have another look at all the displays as well as enjoy some Christmas shopping. I absolutely loved this unicorn display below and I could have literally spent thousands buying all of the items that I saw.
Sadly these beautiful unicorns were beyond my budget and so we settled on purchasing some new baubles for our tree to add to our collection. There was just so many to choose from and I adored this entire selection of white and silver decorations.
They each had a good look around and Ben decided on a selection of Silver Car baubles which were in a pack of three. Riley opted for a personalised Santa bauble with his name on, along with a flashing Reindeer bauble where the nose would flash and light up.
Lastly Emma chose a personalised snowflake bauble along with a flashing Father Christmas one and we were all really pleased with their choices. After selecting our new baubles, we decided to have a look around the gift areas. Again these were all displayed beautifully and every shelf looked immaculate.
The staff clearly work hard to make sure that all the products are displayed neatly and this definitely helps with the shopping experience. There was such a wide range of gifts to choose from and the food and drink gift sets were wonderful with something to suit all tastes. Overall we had an absolutely wonderful time at Wyevale's Bridgemere Garden Centre and the Breakfast with Santa experience was fantastic. I believe that it offers exceptional value for money, as well as being a lovely variation to the traditional grotto experience.
He was really lovely and spoke nicely to the kids asking them questions. I was conscious that other people were all watching and waiting for their opportunity but it didn't feel like you had to rush too much.
There was plenty of opportunity to take your own photos and unlike a lot of other Grottos, there's no official photographer. We took some pictures just of the kids and then asked another family to take some family photos of us.
I'm really pleased with how they've come out! The kids then moved away to the toy shelves to pick from the wide range of toys available for all ages.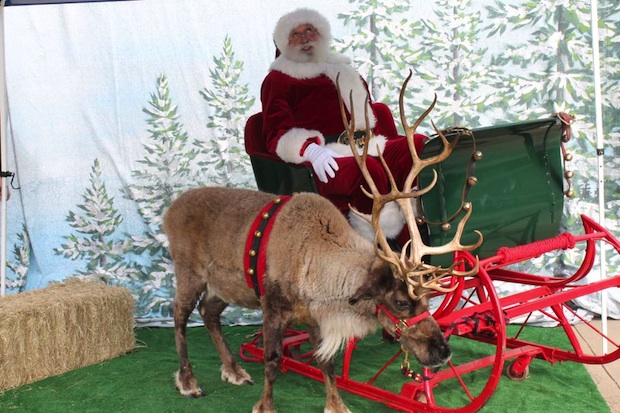 It was quite hard to make a decision, particularly for Miss A. In the end, after a lot of deliberation, she chose a Reindeer soft toy and we helped Master R choose some toy cars with a play mat. I was expecting this to be the end of the experience but then we all lead into another room where we met a third Elf in the Elves Garden. We had to repeat the magic spell and Miss A got to hold the magic wand so she was chuffed!
The Potting Shed was then opened to reveal real mini magical Christmas trees which had 'grown' from the magic seeds. This was a really nice touch as each had the child's name marker on it. The space around the potting shed was quite tight and felt a bit cramped for the children to see and then it suddenly did feel a little rushed to leave at this point.
I would have liked to have a little more time to look at the lovely displays in this room. A lot of work has gone in to them and nice detail, but I think our time was up. As we left, the kids were presented with a paper bag filled with decorations for their trees. Some baubles, ribbons and thin tinsel. The kids set straight to work decorating their trees when we got home - here's the finished result!
We spent some more time looking at the decorations and gave the kids the chance to pick a new decoration each for our own tree at home. Plus bought a few other decorations.
Meet Santa Claus — danunah.info
Each weekend the Garden Centre have additional Christmas activities on. That day it was face painting but the lady was just packing up by the time we passed her table. It's worth looking at the Bridgemere Facebook page for details of what's on. As well as the Christmas displays, there is also a Snow Globe.
They also offer the chance to book Breakfast or Tea with Santa. I hadn't really planned where we were going to go to see Father Christmas this year so was very grateful for this opportunity to see him at Bridgemere Garden Centre. I deliberately hadn't looked at too much information before our visit so I could give it a fair review with not too many expectations.